Investment in rail could make life better in Britain as well as help the country meet its carbon emission targets. But the government seems obsessed with taking on the rail unions and driving down pay and conditions for staff…
Britain's railway industry stands at a crossroads. During the Covid-19 pandemic, passenger numbers and ticket revenues collapsed. Usage has recovered – buoyed up by strong leisure travel – but it is still down by around 30 per cent, with commuters down by around 50 per cent. 
'HS2 has been dramatically scaled back…'
The fragmented passenger franchise system was collapsing long before the pandemic. That set the scene for reforms being set out in what has become the Williams-Shapps Plan for Rail. HS2 has been dramatically scaled back, and plans to build new railways to connect northern cities have been largely ditched.
Collapse
There is now no doubt that the pandemic-induced collapse in rail passenger numbers has stiffened the government's resolve to do what it planned to do anyway as part of the industry reforms – take on the rail unions to drive down rail staff pay and attack their conditions and pensions.
The drop in revenues has forced a massive increase in government subsidies. The Treasury spent an additional £6.5 billion on running the railway in 2020-21. Now it is keen to scale that back. 
But senior industry managers have reportedly been surprised both at the scale of the cuts demanded by the Treasury – a reduction of more than 10 per cent is expected – and also that the cuts must be implemented so soon, probably early in 2022. Reductions on that scale will involve deep cuts in services – and not just to commuter services.
Both Network Rail and the train operators are seeking volunteers for redundancy, but it is now clear that this will not achieve anything like the reductions in costs being demanded. With other costs difficult to reduce quickly, compulsory redundancies have to be imminent.
The rail unions RMT and TSSA secured a "no compulsory redundancy" agreement for 2021 in return for union cooperation in addressing the Covid-19 pandemic. But ominously, the employers have refused an extension until the end of 2022.
So the rail unions are now on a war footing, with preparations being made for industrial action to counter the expected onslaught on jobs and train services. Station staff in particular, especially ticket office staff, are likely to be slashed along with middle managers.
'Bogus'
Mick Lynch, RMT general secretary, has described some of the projections being bandied about in justification for the cuts as "bogus", pointing out that it is too soon to predict that passenger numbers won't recover to pre-Covid levels. Indeed, the signs are that passenger numbers will continue to grow and exceed pre-Covid figures although they may take some time to do so. And timetables will need to be restructured to reflect what will certainly be different travel patterns.
The RMT has also highlighted the savings that could be achieved by ending the profits being made by the private rail companies. Despite Covid-19, RMT claims that train operators and rolling stock companies could have taken over £1.1 billion profit out of the industry in dividends for 2020 alone.
At the RMT's annual conference in October, Lynch described the projected cuts planned by the government as "frightening". He said: "I believe there is a storm coming, and we have to prepare for it", a sentiment the conference delegates wholeheartedly endorsed. He fears that new staff in the industry will be taken on with worse pay and conditions, and considerably reduced pension entitlements.
A meeting of RMT workplace reps in early December voted unanimously to support a ballot of members in Network Rail for strike action in defence of pay, pensions and conditions.
The TSSA is also preparing for strikes. Its general secretary, Manuel Cortes, put the position bluntly: "Let's be crystal clear, any attempt to use compulsory redundancies will be seen as a declaration of war and trains will be coming to a halt."
Most rail workers, hailed as "heroes" during the pandemic, have not had a pay rise for two years. With inflation (as measured by the Retail Prices Index) now running at 6 per cent, rail workers see pay as a key issue as they prepare to confront their employers.
The RMT and TSSA unions have had some recent successes in forcing employers to improve pay offers, most notably in ScotRail. These wins will increase workers' confidence to use a variety of industrial action tactics to secure better deals with other rail companies.
More strikes may also be on the cards in London Underground and its parent body Transport for London. Covid-19 has had a similar impact on passenger numbers and revenue in London, with TfL's financial position exacerbated by the two-year delay in the opening of the new Elizabeth line. 
Cash-starved
Like the national rail network, London's transport has also relied on government funding to make up the shortfall, and the government has taken the opportunity to starve TfL of cash while attempting to deflect the blame on to the Labour Party London mayor Sadiq Khan.
Khan and TfL have warned of a "bleak future" of "managed decline", and talk about possible closure of the Bakerloo line and the Docklands Light Railway in order to save money.
It's no surprise that the Johnson government is attacking rail staffs' pay and conditions in what is one of the most highly unionised industries in Britain. But the government's wider approach to the rail industry is not only riddled with the usual capitalist short-termism, it also comes with a confused and incoherent policy with a mass of contradictions.
'The government's approach comes with a confused and incoherent policy with a mass of contradictions…'
Franchising to provide passenger services is to be ended: this has been widely welcomed. But instead of creating a unified publicly owned railway, the government will use state-owned infrastructure operator Network Rail as the basis for the creation of Great British Railways. GBR will oversee the railway, but will contract out significant chunks, including contracts to provide train services, all with guaranteed profits. These changes are likely to take several years to come to fruition.
It is but a few weeks since Johnson promised the Glasgow COP26 conference that Britain would have zero carbon emissions by 2050. To achieve this would require a rapid transition away from fossil fuels to electricity produced from renewable sources.
Bizarrely, this promise was followed shortly afterwards by the announcement that £35 billion worth of cuts were to be made to the 15-year-old HS2 plans as part of a so-called "Integrated Rail Plan".
The eastern leg of HS2 line serving the East Midlands, Sheffield and Leeds will no longer reach to Leeds – instead it will be a short branch ending at East Midlands Airport. HS2 trains will still go to Derby, Nottingham and Sheffield, but Leeds, York and Newcastle will be served by upgrading the existing East Coast Main Line.
Associated with HS2 was the "Northern Powerhouse Rail" plan, which aimed to link the north of England cities. That plan too has largely been scrapped, with an alternative proposition of upgrading existing lines where average speeds are less than 50 mph. Bradford, a large city with poor rail connections, stands to lose out the most.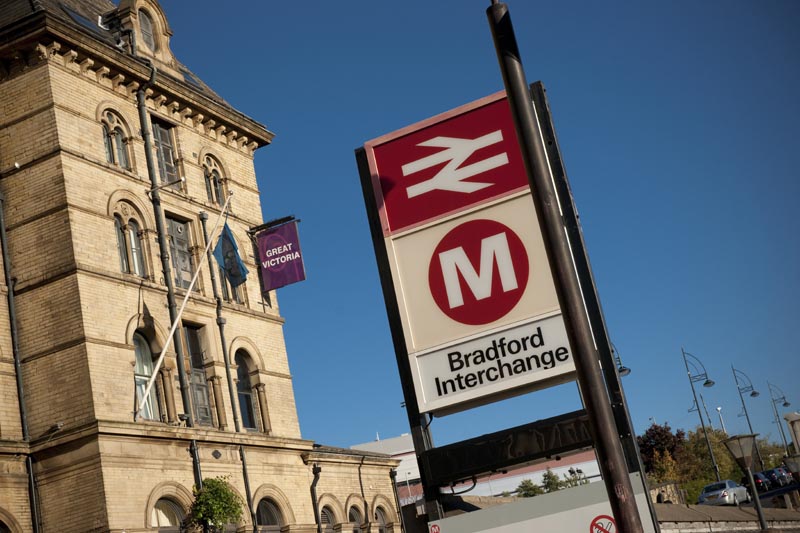 There are those who fantasise about all cars, HGVs and even planes being electrically powered within the next 20 years, but that is what they will remain – fantasies. The easiest and surest way to ensure dramatic reductions in carbon emissions is to transfer significant passenger and freight traffic from airlines and roads on to electrified railways, achieving other desirable environmental changes along the way such as reducing congestion, pollution and noise.
By concentrating fast inter-city trains on a new HS2, capacity was to be released for more local passenger trains and freight trains on three existing main lines to the north from London – the West Coast Main Line, the Midland Main line, and the East Coast Main Line – all of which are currently close to being full.
While the revised HS2 scheme will relieve the West Coast Main Line and provide much-needed additional capacity for that corridor, it will actually reduce capacity on the Midland Main Line, even though it will at last be electrified in full.
The "Integrated Rail Plan" seeks to replace the increased capacity provided by an eastern leg of HS2 with what would have to be massively expensive upgrades to the East Coast Main Line. The lesson of the hugely costly limited upgrade of the West Coast Main Line – that it is cheaper to build a new railway – has been ignored. 
Disruption
Network Rail's CEO Andrew Haines talked in 2020 of massive disruption should the East Coast line be upgraded as an alternative to HS2. He warned that "the route would be closed at one location every week for between 26 and 29 years. If closure at two locations were assumed, this would take 13-14 years." Exactly the same problem would afflict upgrades to existing railways in the north of England as an alternative to "Northern Powerhouse Rail".
Without the additional capacity provided by the original HS2 plans, it will simply not be possible to move significant traffic from other more carbon-dependent modes of transport.
But it is worse than that. A £30 billion blueprint to electrify Britain's railways – the Traction Decarbonisation Network Strategy – which proposed the electrification of around 7,500 miles of existing railway could be dumped. 
'The electrification of 7,500 miles of railway could be dumped…'
Sir John Armitt, Chair of the National Infrastructure Commission, has warned that "we need a detailed and costed plan for ensuring that rail is decarbonised". Yet the plan – drawn up only 18 months ago – was reported by The Daily Telegraph in early December as having been blocked by the Treasury. That would mean even the existing railways could not be decarbonised by 2050.
On the plus side, the industry welcomed commitments in the Integrated Rail Plan to spend £96 billion on new rail infrastructure, and is also keen to highlight the government's preparedness to continue to put significantly greater subsidies into the railways in the future.
Also to be welcomed was the announcement in early December that the new HS2 trains would be built in Britain by a joint venture between Alstom and Hitachi, using their existing manufacturing capabilities at Derby and Newton Aycliffe, and reinstating a factory at Crewe.
So the future of rail in Britain is in the balance. The immediate task ahead for rail workers will be to defend what they now have, and then fight for the sort of 21st-century railway that Britain needs and deserves. With all the current industrial and political uncertainties, there is everything to play for.