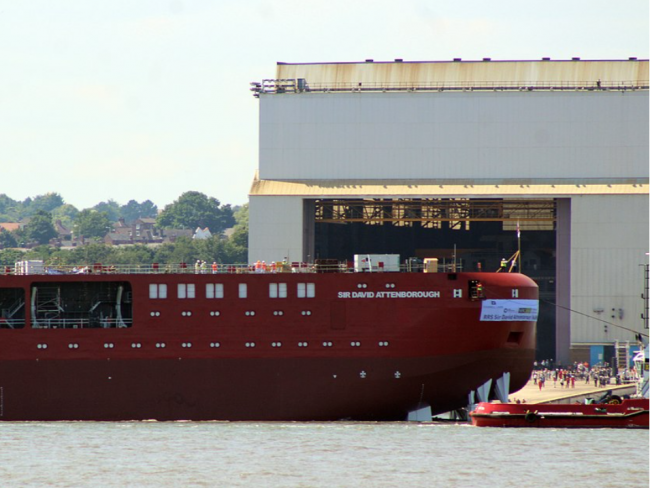 The government announced an increase in defence spending in the House of Commons on 19 November, part of the first conclusions of its Integrated Review covering security, defence, development and foreign policy. 
Noteworthy is the statement of intent to restore Britain's shipbuilding industry. Plenty of the people who put Boris Johnson into office will be watching and demanding implementation of this pledge.
The extra spending will allow the government to take forward plans for 13 new frigates, as well as support ships for carriers. Johnson said it would "spur a renaissance of British shipbuilding across the UK – in Glasgow and Rosyth, Belfast, Appledore and Birkenhead – guaranteeing jobs and illuminating the benefits of the Union in the white light of the arc welder's torch." 
Johnson also talked about safeguarding hundreds of thousands of jobs in the defence industry, "protecting livelihoods across the UK and keeping the British people safe". 
It's up to workers to hold him to his promises. Harland and Wolff, for example, which now owns Appledore, is in turn owned by asset management company Infrastrata. Two years ago, Infrastrata made a deal with Spanish shipbuilding giant Navantia to team up on a range of products. These included supporting Navantia in its bid for new support ships for the Royal Fleet Auxiliary. 
Ships are needed to secure the waters around Britain as a sovereign coastal state. Where there is a sustained future for building warships there can be a future for any shipbuilding. This also applies to the other industries requiring technological advancement in order to refit the armed forces for the challenges of a new era. 
Significantly, there is no mention anywhere of the Withdrawal Agreement – which seeks to bind Britain to EU rules on procurement, covering all public contracts, utilities, and defence and security. These rules would hamstring the government's ability to give the work to British suppliers.