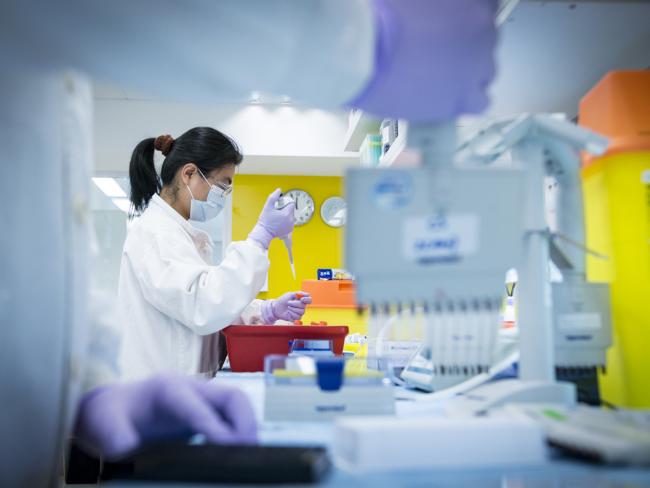 A hard border for medicines between Northern Ireland and Britain is to be imposed by the EU, as it denies people in the province early access to a new life-saving cancer drug which has been approved in Britain but not for the same purpose by the European Medicines Agency.
Last week the MHRA, the British medicines authority, approved the drug osimertinib for treating early-stage lung cancer patients after surgery as part of the Orbis collaboration with Canada, Australia, the USA, Switzerland and Singapore to speed up approval for effective cancer drugs. Osimertinib, made by AstraZeneca and discovered by its scientists in Macclesfield, has been found to improve survival rates by up to 75 per cent.
The early authorisation of the drug is one of the fruits of Brexit, which allowed Britain the opportunity to join the Orbis collaboration in January 2021, said health secretary Matt Hancock. Full guidance from the National Institute for Health and Care Excellence (NICE) is not expected until after the summer.
Slow
The EU, meanwhile, is taking its time (as it did over vaccines). Although it has authorised osimertinib for mid- and late-stage small cell lung cancer, the European Medicines Agency is still evaluating its use after surgery in early-stage cancer. And the EU is interpreting the Northern Ireland Protocol as meaning the drug cannot be routinely prescribed there until the EMA allows it.
Medicines fast-tracked in England were not automatically available in Northern Ireland until 2018, when the NI Department of Health changed its rules. According to its Permanent Secretary, Richard Pengelly, patients and clinicians needed "timely access to the most promising new treatments".  
Draconian
Now that access is to be snatched away, in yet another but more dangerous example of the EU's decision to impose draconian interpretations of the disastrous Protocol signed by Boris Johnson in December last year.
The decision has not gone down well in the province, where every year around 1,300 people are diagnosed with lung cancer, and around 1,000 die as a result. 
The leader of the Traditional Unionist Voice party said the protocol is "literally bad for your health". Many people have called for the Protocol to be unilaterally suspended. A challenge to its legality is being mounted in the High Court in Belfast, where it has been likened to the Vichy regime in Second World War France.
"The divergence of regulations between GB and NI will potentially have implications for approvals of some new cancer drugs in the future," Cancer Research UK public affairs manager told the Belfast News Letter. "Many cancer patients and their families in Northern Ireland will find it difficult to understand why they might have to wait longer for life-saving treatments compared to patients in other parts of the UK."