This issue we review two books that look back on the Spanish Civil War, and one on a more modern conflict – the dirty war that the CIA has been waging in Syria…
A nurse's recollection
A Spanish civil war scrapbook: Elizabeth Pearl Bickerstaffe's newspaper cuttings of the wars in Spain and China from August 1937 to May 1939, edited by Jim Jump, paperback, 204 pages, ISBN 978-1-909831-98-8, International Brigade Memorial Trust and Lawrence & Wishart, 2015, £19.96.
This interesting book is taken from the Spanish civil war scrapbook kept by Pearl Bickerstaffe. It has an introduction by Paul Preston, Professor of Spanish History at the London School of Economics and Political Science, and a foreword by Rodney Bickerstaffe, Pearl's son and a former general secretary of Unison.
Pearl Bickerstaffe kept her scrapbook from 1937 to 1939 while she was a children's nurse in south Yorkshire. She took these cuttings mostly from the Daily Worker, the newspaper produced by the Communist Party of Great Britain. Other cuttings come from the News Chronicle, Tribune, the Daily Sketch, the Daily Telegraph, Picture Post and from Pearl's local paper the Doncaster Gazette.
The collection includes many reports from the war in Spain detailing the heroic struggles of the Spanish people and recording many of the atrocities committed by the invading Nazi and Fascist forces. There are details of the actions of British workers, members of the International Brigade, engineers, miners, dockers and others in support of the Spanish Republic. For example, in January 1939 London engineers walked out of work and marched to Downing Street to demand arms for Spain.
'The Soviet Union alone armed and backed the Spanish Republic.'
The British and French governments adopted a policy of non-intervention which let Hitler and Mussolini continue their armed interventions. It was indeed "Murder – by British consent" as the Daily Worker reported of an air raid on Barcelona in January 1938 which killed 300 civilians. It continued, "Franco's blood guilt is shared by others...The peace policy of the gentlemen in Whitehall, of Chamberlain, Eden, the policy of 'non-intervention' did not stop them any more than it has stopped the shells which rain on Madrid, the bombs 'made in Germany' that shattered Guernica. That is how 'non-intervention' works, that is the 'peace' policy of Messrs. Chamberlain and Eden, whose blood guilt is equal with Franco and Mussolini."
The Soviet Union alone armed and backed the Spanish Republic against the interventions by Hitler and Mussolini. But the lies abound.
As George Preston writes of George Orwell's 1938 book Homage to Catalonia, this "memoir of his brief time in Spain has given much succour to those who wish to claim, whether from the far left or the far right, that the defeat of the Spanish Republic was somehow more the responsibility of Stalin than of Franco, Hitler, Mussolini or Neville Chamberlain."
Through observers' eyes
Hell and good company: the Spanish civil war and the world it made, by Richard Rhodes, hardback, 302 pages, ISBN 978-1-4711-2617-8, Simon & Schuster, 2015, £20, Kindle and e-book editions available, paperback available soon.
American author Richard Rhodes has written a fascinating study of the Spanish civil war. He presents it through the eyes of poets, artists, doctors, nurses, reporters and writers who experienced it.
After the Spanish people voted for democracy in February 1936, rebel generals, led by General Francisco Franco, rallied Moroccan mercenaries and Spanish Foreign Legionaries to overthrow the legitimate elected government.
Hitler and Mussolini openly backed Franco's coup attempt. The British National government led by Conservative Prime Minister Stanley Baldwin supported Franco, but more covertly. So too did the French social-democratic government led by Leon Blum. As Rhodes writes, "Under pressure from the English, who favoured Franco, Blum decided that non-intervention was the better part of valor."
Rhodes describes how the fascists brought innovations like the terror-bombing of civilians. Franco's bombing of Madrid, the Basque country and Barcelona killed 54,000 men, women and children.
In contrast, the Republicans brought medical progress, an aspect of the conflict not widely known. Rhodes explains, "Spanish and foreign volunteer doctors made medical advances in blood collection, preservation, and storage; in field surgery; in the efficient sorting of casualties. Fortuitously, these innovations came just in time to save lives not only in Spain but worldwide, among combatants and civilians alike, in the larger war that followed."
An innovative Catalan surgeon Josep Trueta introduced a method of cleaning, packing, and then protectively casting large wounds in plaster. Another Catalan doctor, Frederic Duran Jordà, developed the world's first frontline blood transfusion service.
Trueta's treatment of compound fractures was a major, lifesaving innovation. His results were extraordinary. Less than 1 per cent of the casualties died. About 9 per cent were disabled and the rest healed satisfactorily. By comparison, a shocking 46 per cent of American soldiers who suffered such fractures during the First World War were permanently disabled and 12 per cent died.
Trueta's idea was recently independently rediscovered. In its new incarnation, as vacuum-assisted wound therapy, it is preserving limbs that organisms resistant to antibiotics might otherwise destroy.
Imperialist meddling
The dirty war on Syria: Washington, regime change and resistance, by Tim Anderson, Global Research Publishers, 123 pages, ISBN 978-0-9737147-7-7, Global Research Publishers, 2016, downloadable, $9.45.
Tim Anderson is a Senior Lecturer in Political Economy at the University of Sydney. His deeply researched, thoroughly referenced account of the war in Syria shows that it is not the war that our media tells us.
Syria and Iran are the only countries in the Middle East without US military bases. This helps to account for NATO's longstanding hostility to Syria and action against it.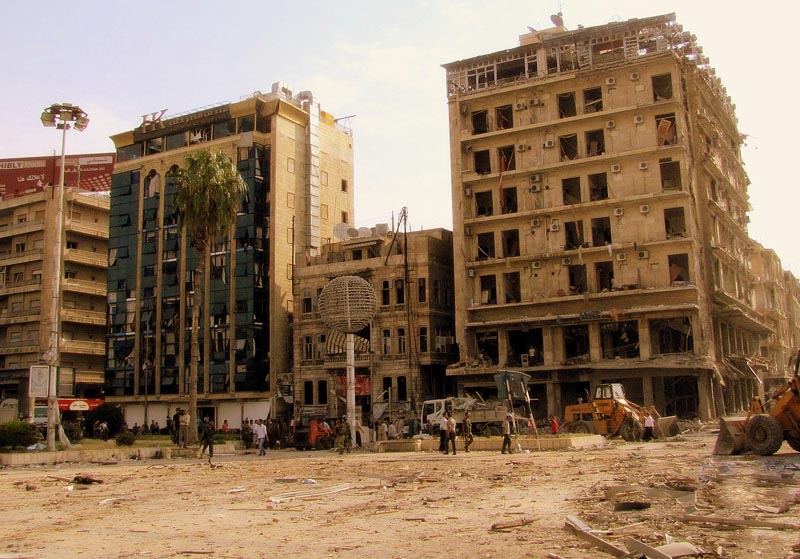 In 1982 the Syrian government crushed a Muslim Brotherhood insurrection in Hama, an insurrection backed by US allies Saudi Arabia, Saddam Hussein and Jordan. A former French Foreign Minister has testified that in 2009 the British government was organising an invasion of rebels into Syria. And the Saudi government sent arms to Islamists before the Islamist insurrection in Daraa in March 2011 using the political reform movement as cover.
Vice-President Joe Biden admitted, as did the head of the US Armed Forces and the Chair of the US Armed Services Committee, that US allies Turkey, Saudi Arabia and Qatar funded all the extremist groups including ISIS.
In 2012 the US Defense Intelligence Agency reported, "The Salafists, the Muslim Brotherhood and AQI [Al Qaeda in Iraq, later ISIS] are the major forces driving the insurgency in Syria.…There is the possibility of establishing a declared or undeclared Salafist principality in eastern Syria (Hasaka and Der Zor), and this is exactly what the supporting powers [the West, Gulf monarchies and Turkey] to the [Syrian] opposition want, in order to isolate the Syrian regime."
The Islamists blame the government for the Islamists' own atrocities and pretend that their own casualties are innocent civilians killed by government forces. They lie that the Syrian government and now the Russian government are deliberately killing civilians. And Anderson shows how Amnesty International and Human Rights Watch give support to these claims, acting as propagandists for war.
Syria's government is independent, pluralist, secular and popular. When US ally the fascist Qatari regime, which funds al-Nusra (al-Qaeda in Syria), hired a polling firm in 2012 to survey Syrians, it found that 55 per cent of Syrians wanted Assad to remain as President. A 2013 internal NATO report admitted that President Assad has 70 per cent support.
In the 2014 Presidential elections, 65 per cent supported Assad, 88.7 per cent of the vote from 73.4 per cent participating. July 2015 polls from a British firm that has ties to Gallup found, "Polls Show Syrians Overwhelmingly Blame U.S. for ISIS."