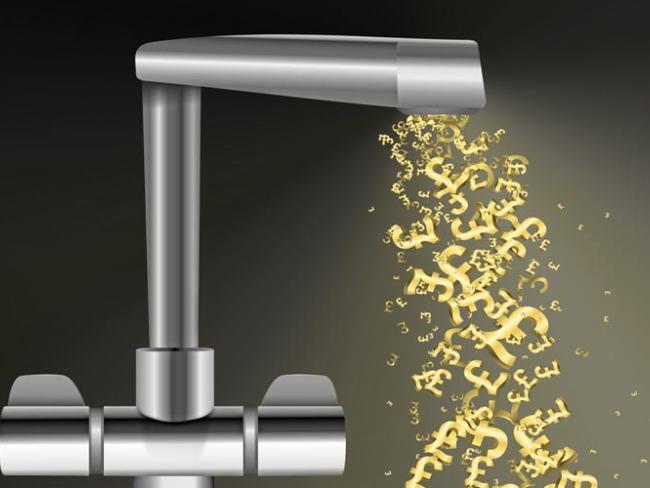 If capitalism could charge for the air we breathe, we'd be paying through the nose for it. And why not? They've already managed it with water.
Water is not just essential to human life. Along with power and people it is one of the essential foundations of industry. It should never have become a plaything for profit.
The privatisation of water must rank as one of the biggest scandals of the past three decades. Ordered by the Thatcher government, it left England and Wales with the only fully privatised water and sewerage services in the world, an experiment for which we have paid dearly.
'A devolved and regionalised structure that makes proper national planning for Britain impossible.'
Even worse, it resulted in a devolved and regionalised structure that makes proper national planning for Britain impossible. The English water companies are all privatised. In Wales privatisation led eventually to the creation of a non-profit provider. In Scotland water remained in public hands.
By 2015, regulator Ofwat reported that the average household bill for water and sewerage in the privatised areas had reached £396 – an increase since privatisation of 40 per cent in real terms. For comparison, the real-terms cost of water in Scotland has fallen by 6 per cent.
Privatised
All the English and Welsh regional water companies were privatised in stock market flotations, with all their debts kindly written off by the government. Debt-free, they raked in large profits. Some moved into other industries.
In Wales, the Welsh Water Authority moved into tourism and fishing, then took over electricity provider Swalec to become a "multi-utility", renaming itself Hyder (ironically, the Welsh word for "confidence"). 
A mere 12 years after privatisation, Hyder was taken over by Western Power Distribution, which sold its water interests for £1 (that's 100 pence) along with an astounding £1.85 billion of Hyder debt. The resulting company, Dŵr Cymru Welsh Water (also known as DCWW), was established in 2001 as a non-profit with no shareholders.
Hyder was not the only privatised company to accumulate debt while doling out dividends. Debt and dividends have been a continuing feature of water companies in England. Thirty years after debt-free privatisation, they have accumulated debts of £51 billion while handing out dividends of £56 billion.
Big business
Across Europe, water is already a mega-business. When the European Commission was forced by public revolts to take water out of its "concessions" directive (see "European Commission looks once more at water privatisation"), Aquafed – "the international federation of private water operators" – reacted with outrage. 
Estimating that there are around 12,000 "public–private partnerships" within the EU, Aquafed pointed out, "This number exceeds by far the number of PPP contracts in other sectors and might be close to half the total number of 'concessions' contracts across the European Union that are potentially subject to the future directive."
Meanwhile, with privatisation here, much of Britain's water is, literally, leaking away. As the GMB union pointed out when news emerged of the first hosepipe ban of the summer – in the North West, from the start of next week (5 August) – a little over 3 billion litres of treated water disappears in England and Wales each day.
In the North West, where 7 million households are affected, 439.2 million litres leak every day from the pipelines of operator United Utilities. (The figures come from the Consumer Council for Water, the water watchdog for England and Wales.)
Southern Water is also seeking water restrictions, including hosepipe bans, because of low levels in the rivers Test and Itchen.
Big salaries
But some people are doing well out of all this. In June, the GMB revealed that the nine heads of England's privatised water companies received £11 million between them in 2018 alone.
Pressure has been building up for years. In response, the Labour Party is calling for the nationalisation of the water companies – something it failed to propose during its 13 years in government from 1997 to 2010. Last year it published a document entitled Clear Water, and subtitled "Labour's vision for a modern and transparent publicly owned water system".
So far, so good. The nationalisation of water would be immensely popular. Opinion polls consistently suggest majority support for it. Even one commissioned by the water companies found more in favour than against, and that poll appeared to have been designed to encourage positive thoughts about water companies before asking about nationalisation.
'Labour's "vision" is dangerously short-sighted'
But read deeper into Clear Waterand Labour's "vision" is revealed as dangerously short-sighted. It talks about nationalisation but remains committed to regionalisation, maintaining the regional structure of water authorities (along, implicitly, with devolution in Scotland and Wales). Nowhere is there any attempt to build a truly national water infrastructure.
As bad, the new regional water companies will have their financial management based on Transport for London – whose stewardship of the capital's transport system has led to high fares and repeated attacks on trade union organisation.
Yet the need for a national rather than regional water infrastructure is pressing. Indeed, earlier this year the government's own National Infrastructure Commission spelled out some of what is needed in a report calling for radical action.
"Few of us ever question if water will flow when we turn on our taps," the report said, "and yet without further action there is roughly a 1 in 4 chance over the next 30 years that large numbers of households will have their water supply cut off for an extended period because of a severe drought."
• This article has been corrected to refer to low levels in the Test and Itchen rivers. The original article referred incorrectly to Thanet.