The government's attitude to supporting public transport in the capital doesn't just spell trouble for Londoners. Workers across Britain should heed this warning and unite in opposition against the threat to TfL…
At the last general election one of the Conservative Party's slogans was "levelling up": the north and other economically struggling regions had to be primed to get society improving there. But that can't mean neglecting the rest of the country; there are clear signs of major problems elsewhere. 
And when it comes to transport, Londoners have been abandoned as much as anywhere in Britain. Millions of working people either live or work in London. It cannot be neglected.
The government has largely written off the capital: it's not promising election territory and therefore not worth bothering about. On the other hand, the Labour Party and mayor Sadiq Khan take the metropolis for granted and direct their energies into cultural agendas and vehicle reduction schemes rather than trying to help create an economic revival in London.
Essential
Like everywhere in Britain London's economy has been hit hard by the pandemic's lockdowns and restrictions. And transport will have an essential role in transforming London. Almost nine million people live in London and hundreds of thousands more travel in to work there. A city of this size thrives or dwindles according to the efficacy of its transport infrastructure.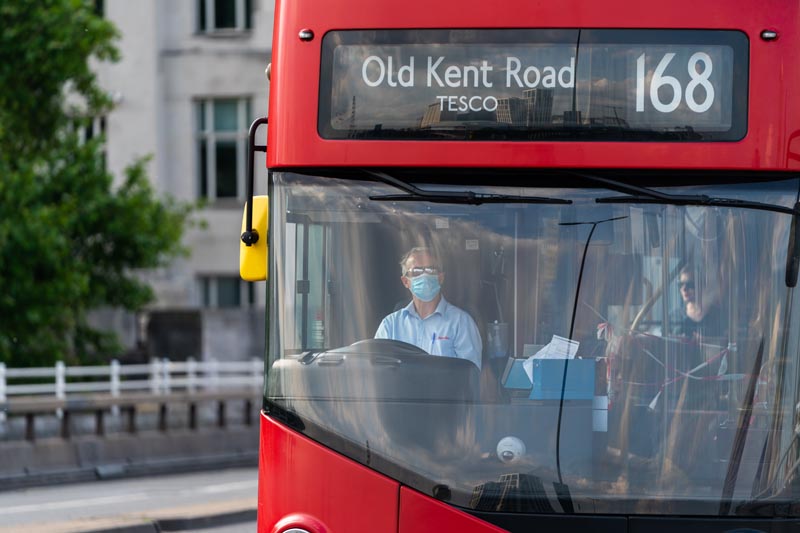 Covid has had a massive financial impact on TfL (Transport for London). The response, from both government and opposition, has been completely inadequate. TfL entered the pandemic with a massive reliance on fares revenue: about 72 per cent of every pound spent on London's transport network came from fares – roughly double the 38 per cent in New York and Paris.
Then came the lockdowns and restrictions and the enormous drop in numbers of people using the Underground, rail and buses. The government reacted to TfL's financial crisis by sanctioning a series of short-term tranches of money. This presupposes the crisis will never be resolved or settled, which just postpones the decision. 
The last tranche of money, extending support up to the end of December 2021, was authorised by government in June 2021. Even so, TfL will still be racking up debt: its revised budget, announced on 26 July, trumpeted "progress towards financial sustainability" – but still revealed a potential shortfall this year of £500 million.
Worse, government support has come with a long list of strings attached. These include a commitment to review TfL pension schemes, to expand the number of driverless trains, and by September 2021 to review and reconsider service levels on the Underground and Overground in light of observed demand across the network. 
The concept of driverless trains excites those on the reactionary right who seem to think they would mean no strikes. That, though, is a pipe dream that ignores station and signalling staff, for example, who are also vital to a transport network. The only thing that is certain is that it would be ruinously expensive to convert existing Underground track, much of it shared with the rail network, to cope with it.
Attacks
The strings are yet another example of using a crisis to attack workers and their hard-won conditions of service – in this case the transport unions. 
The RMT signalled its opposition to the June funding deal immediately. "This is a disgraceful stitch up of a deal and it will be resisted by our members whether it comes from Whitehall or City Hall through London wide industrial action if necessary. It is completely unacceptable for transport workers who have risked and in some cases tragically lost their lives to now be asked to pay this political price for the coronavirus," said Mick Lynch, the RMT's general secretary.
Lynch called the attack on pensions "wholly unacceptable", and said that driverless trains were "unwanted, unaffordable and unsafe". And he laid out the political context clearly: "With funding only lasting until December London is being held to ransom with a gun to its head rather than being given the long term stable funding deal that is necessary to rebuild the economy as we move out of lockdown."
Mayor of London Sadiq Khan and TfL have announced cuts to Tube and bus services. TfL board papers indicate week-end and off-peak services will be cut from next year. Fares will go up by around 5 per cent in January. And bus services will be reduced in following years. Even with these cuts TfL will require a further £500 million from the government to avoid services grinding to a halt between January and March next year.
Night fight
In a taste of what may be in store, TfL has announced plans to axe the night Tube train driver grade. The move would have the effect of making night duties compulsory for all train operators, including women and those working part-time, with additional weekend duties. In response the RMT, following a solid vote for action, announced four 24-hour strikes across the Tube network in August, starting on 3 August. The strikes were later put on hold following apparent progress in talks at the conciliation service ACAS.
Obviously a better long-term funding agreement is required instead of the recent pattern of short-term bailouts. But government wants TfL to be financially self-sufficient, by which it means the end of all government support by April 2023 "at the latest". This continues transport funding policy predating the pandemic, which left TfL financially vulnerable.
'One of the conditions of government support is planning for "extant demand"'
Whatever cuts TfL makes – and it's making plenty – anything approaching self-sufficiency will require more people to travel in the capital, and more often, too. One of the conditions of government support in June this year stresses the aim of planning for "future service scenarios that reflect extant [left at the end of the pandemic] demand". That is deliberately ignoring the reality that reduced service levels in turn reduce demand. 
At the start of June 2021 passenger usage across the network was still below 60 per cent of pre-pandemic levels. If TfL has to plan for future service levels far below pre-pandemic ones, it will mean massive cuts across the board – so deep that they will put even more people off using the network. 
It's a chilling scenario, all the more since it's likely to be what the government wants to impose on public transport all over the country. That's another reason why Londoners have to fight this attack, and why they should be supported by workers across Britain.
Home working
The fall-off in usage has been accompanied by a surge in the numbers of people working from home. That's not a uniquely London phenomenon, but more are working from home in the capital than in any other area of Britain.
According to a survey by the Office for National Statistics released in May, around 36 per cent of workers in Britain worked from home at some point in the preceding year. In London that figure was 46 per cent. Yet far fewer are working from home all the time: in the week before the survey was taken, the figure for Britain dropped to around 26 per cent.
Even within London there are huge variations. In the week prior to the survey, for example, around 33 per cent of workers in Richmond-on-Thames were working from home. In Barking and Dagenham it was just 3.3 per cent.
Working from home is on the increase, but it is a long way from the norm. Most workers simply could not work from home, even if they were in a suitable job and had a spare room or a kitchen table to themselves and reliable broadband. 
Back in the world
Most Londoners want to get back in the world, to get back to their workplaces, to get back to travelling on tubes, trains and buses. And people from across Britain want to be able to visit the capital again.
Now that huge numbers have been double-jabbed with Covid-19 vaccinations, now that risk of serious illness is getting much less because of mass vaccinations, people must value the restoration of normal transport services.
But no one is going to flock back to an increasingly expensive network with increasingly unreliable schedules and increasingly crowded trains and buses. If they are to find a path back to the workplace, workers must take action themselves to save the transport system from being deliberately undermined.
As well as making the government support public transport systems financially, workers must force government to adopt a massive public campaign to convince people to come back to work in London and return to travelling again on the Tube, rail and buses.
It has taken over 150 years to create the Tube and rail network, to move people to work and leisure locations. It is a factor in our civilisation. It is clear by its actions that government is out to reduce and destroy large parts of the transport network. 
• This article was edited on 3 August to reflect the suspension of industrial action over the Tube night drivers grade.