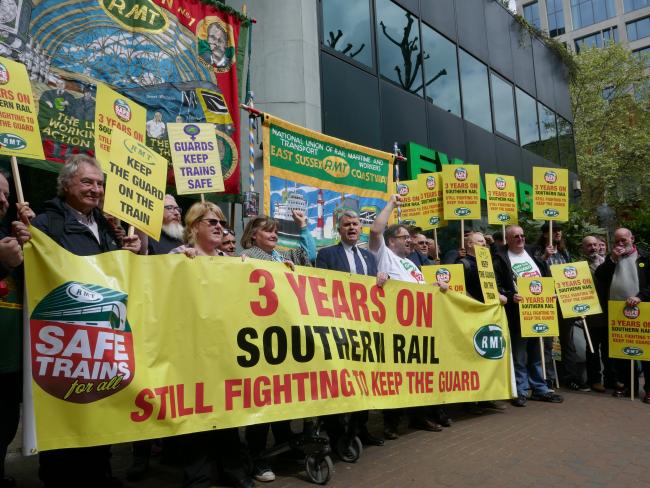 RMT members have voted for strike action on pay, jobs and safety. The ballot result announced on 24 May showed an overwhelming majority in favour.
Over 70 per cent of the 40,000 members in Network Rail and the train operating companies voted – 89 per cent of them for strike action Only 11 percent voted against, and some of them supported action short of a strike.
RMT general secretary Mick Lynch said that the vote "…sends a clear message that members want a decent pay rise, job security and no compulsory redundancies."
"Members want a decent pay rise, job security and no compulsory redundancies."
Members on Chiltern Railways, Cross Country Trains, Greater Anglia, LNER, East Midlands Railway, c2c, Great Western Railway, Northern Trains, South Eastern, South Western Railway, Transpennine Express, Avanti West Coast and West Midlands Trains all voted for strike action.
A majority of members working for Govia Thameslink supported both strike action and industrial action short of strikes, but failed to meet the government-imposed threshold for a strike. RMT have said they will re-ballot, aiming to secure a strike mandate.
There are many reasons behind this vote, several of them long term issues. For the transport minister Grant Shapps to say that strikes are the first resort is misrepresentation – either deliberate or through ignorance.
Pay freeze
While the cost of living soars, rail companies have imposed a pay freeze. Vacancies are deliberately left unfilled, while the employers, many of whom made record profits in spite of the pandemic, refuse to give a guarantee of no compulsory redundancies.
The safety of rail travel is compromised. Signallers, who play a vital part in that, find their skills diluted by management interference in operational decisions. The concept of "risk-based maintenance" has been introduced; in other words, wait till it breaks. Maintenance jobs have been slashed as a result.
Axed
The operative grade is to be abolished, and replaced with an "Assistant Tech" role, on lower pay and worse conditions. Hundreds of station jobs are to be axed as a Beeching-like programme of ticket office closures and a "single station" concept are introduced.
Deskilling and outsourcing add up to fewer staff employed on direct contracts, and the use of more contract and casual labour.
The fragmentation of the national rail network into multiple operation companies, often foreign-owned, was designed to weaken union organisation in the industry.
The ballot results suggests that purpose has been thwarted by hard organising work on the part of RMT members, an example to other unions in the rail industry and beyond.