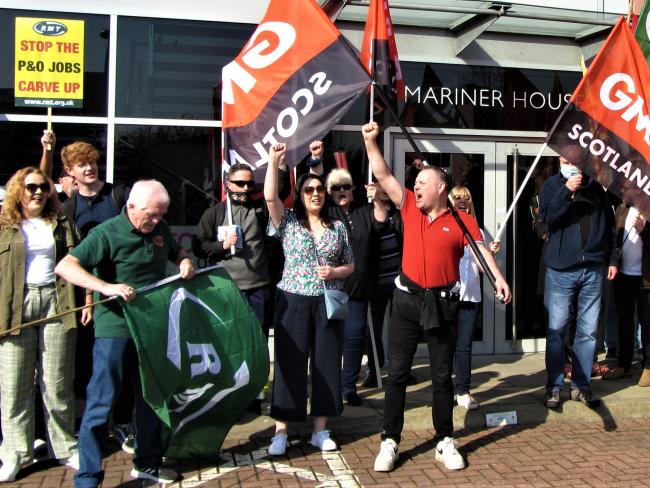 Two weeks after being sacked, seafarers are taking the fight to P&O Ferries. Protests and demonstrations continue around the country in response to the employer's brazen actions. The next is happening at Port of Liverpool at 7.30am on Thursday 31 March.
On 28 March RMT and Nautilus International members protested at Clyde Marine Recruitment in Govan, Glasgow. That agency was responsible for recruiting replacement crews to undercut the sacked workers – at less than the minimum wage.
Support
GMB members, energised by the success of their recent strikes in Glasgow council's cleansing department, came to give support. See the video here: GMB's Chris Mitchell lead the singing – "P&O's not sailing".
Members of UCU Glasgow also turned out in support, with Jeanette Findlay, UCU Scotland vice president, addressing the gathering.
Escalation
RMT Regional Organiser Gordon Martin said: "We will target any company that is supporting the disgraceful actions of P&O. We're not going anywhere. Reinstate the workers now or expect escalation. Next up we're going to blockade Cairnryan port on April 8th."
After the shock of the sackings, the extent of P&O Ferries action became clear. CEO Peter Hebblethwaite admitted the firm broke the law by not consulting unions. Their arrogant justification was that unions could not possibly accept any of the options they were considering!
Dangerous
P&O, owned since 2010 by Dubai-based global logistical company DP World, will save by cutting the number of crews as well as paying them a pittance. On the Dover-Calais route the company will replace four full time crews with two crews, paid only when they work.
Unions have pointed out how dangerous this is. They have urged the Marine & Coastguard Agency to take a "whole fleet" approach to safety not only to seize individual vessels.
The government has been ineffective. Transport secretary Grant Shapps called for the crews to be reinstated. P&O just said no and countered a suggestion of legislation with a threat that they'd go out of business. These ferry routes are of strategic importance to Britain.
"P&O has been able to break our laws and disrupt our ports with impunity."
Mick Lynch, RMT general secretary, pointed out today (30 March) that government promises of legal action have not materialised. He went on to say, "This lack of action and courage has meant a ferry company owned by the Dubai royal family has been able to break our laws and disrupt our ports and ruin people's lives with impunity."
Although action from government would be welcome, the P&O workers will have to rely on themselves and their supporters in this fight. And they certainly don't need backwards looking criticism that Brexit, which the RMT opposed, was to blame.
P&O took a similar course to Irish Ferries in 2005 – under EU law, which successive governments have failed to challenge. What the government can do is to strengthen UK employment law, according to a report in The Guardian quoting employment lawyers. British workers should demand that they do so.