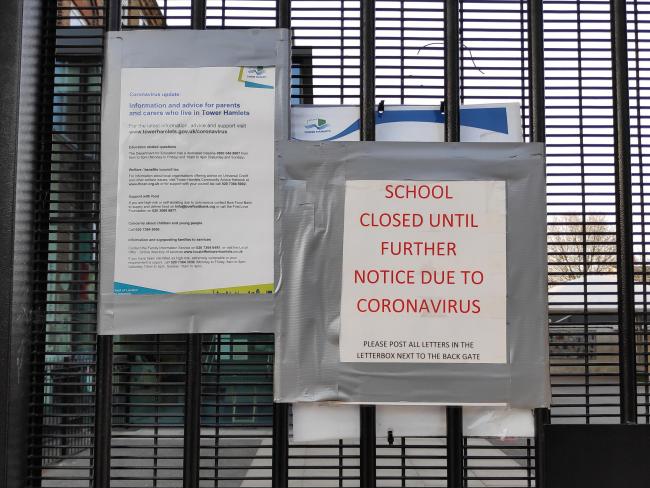 Russia's main opposition party, the Communist Party of the Russian Federation (CPRF), has launched a campaign against school lockdowns and the Russian government's plans for online schooling. The Russian government hasn't imposed a national lockdown since last summer but school closures have remained in place. 
In a statement on December 2020, the Russian communists said: "Children are deprived of their natural right for free education, guaranteed by the Constitution of the Russian Federation and parents have to fight for the right of their children to go to school as staying out of school for such a long time is very harmful for their mental and physical health. All social and communicational links are being broken." 
The party continued: "In this situation CPRF parliamentarians of all levels, party members, activists and supporters organise protest actions against further prolongation of online education for children in Russia, opposing an attempt of the 'United Russia' [the governing party] to push through a Law legitimising online education on a permanent basis." 
Missed
Last year teaching unions here in Britain missed the opportunity to take a leading role in upholding the principle of education for all children and young people, appearing instead to emphasise risks and difficulties for school staff. 
The unions supported the closure of schools to most children with the slogan "No going back until it's safe", in practice an impossible demand. Many teachers and other school staff discounted this policy, working together to make schools as safe as possible – a crucial difference.
With high infection levels, mutant virus strains and significant increases in deaths and hospitalisations from Covid-19, managing schools is difficult – especially with staff off sick or isolating. But children and families are being badly let down by the seeming acceptance by government and unions that schools can stay shut for most.
Stress
What of parents? The emergence in this lockdown of "home schooling", with daily programmes of online or other remote learning laid out for parents to "teach" their children is causing severe strains at home. Parents' social media groups are reporting high stress levels, trying to juggle work and "schooling" while staying sane.
Teachers having to combine physical teaching in schools (for the children of key workers) with remote teaching for those at home are exhausted. Any parent or other "home schooler" watching live Zoom lessons together with young children will see the tiredness on their faces. Technology often fails – very publicly. Regard for teachers has risen during this current phase.
Deaths
But children are suffering. Only a few days ago (3 February) Florence Kroll, Director for Children's Services Royal Borough of Greenwich, wrote to schools revealing four child deaths in Greenwich over the same number of weeks. 
"Three at least have elements of mental health deterioration perhaps exacerbated by the current lockdown of the Covid-19 pandemic. We are undertaking reviews and working with health services to address concerns about mental health whether that be of children or parents," she wrote in correspondence seen by CPBML News.
The number of children in Britain with mental health problems has risen by an estimated 500,000 since the beginning of the first lockdown, according to a survey by the Evening Standard. 
The newspaper reported a 109 per cent rise in reported incidents of self-harm and a 68 per cent rise in suicidal thoughts in secondary schools during the 2020 autumn term, citing research from the charity Place2Be, which provides mental health services to more than 600 schools across Britain.