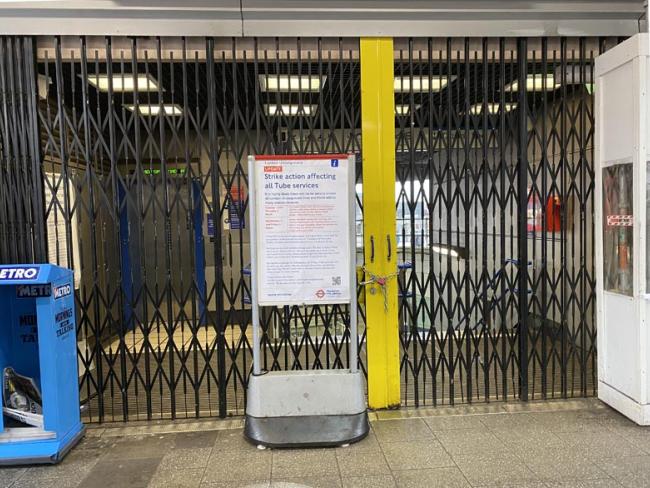 The crisis engulfing London's public transport continues, with passengers hit with 4.8 per cent fares increases from 1 March while staff face the prospect of job cuts along with a degraded pension provision as part of a wider attack on working conditions.
Over 10,000 RMT London Underground members in all grades took strike action on 1 and 3 March, paralysing the tube network. Many Underground services were also suspended for at least part of 2 and 4 March as a result. Also affected were some "main line" train services, especially Chiltern, which operates over London Underground tracks.
The Covid-19 pandemic has hit the finances of Transport for London (TfL) hard. Passenger numbers on the Underground are down at around 60 per cent of pre-pandemic levels during the working week, with numbers up to around 75 per cent at weekends. Bus usage is down at around 75 to 80 per cent of pre-pandemic levels.
Revenue
Prime Minister Boris Johnson removed ongoing central government subsidy from TfL before the pandemic, leaving London as the only major city in the world with a public transport system that is pretty much reliant on fare revenue to survive.
So the downturn in passenger numbers has left TfL with a huge shortfall in revenue, and measures such a closing whole tube lines have been mooted. TfL and the London Labour Mayor Sadiq Khan have had no alternative but to beg the government for help. 
The government is clearly seeking to exploit Khan's discomfort for political gain, and instead of agreeing to TfL's request for a funding package for at least  three years that allows stability and the continuing modernisation of an Underground system dating back to 1863. Johnson and Transport Secretary Grant Shapps have engineered the provision of short-term financial packages which are driving cuts and leaving TfL to manage decline.
Erosion 
The government is forcing Khan to look at eroding staff pensions and other working conditions as a condition for its help. It has also dictated a fare increase 1 per cent above that imposed by the government on main line rail passengers, and wants Khan to increase the qualifying age for free travel from 60 years old. No firm decisions have yet been announced.
But Khan knows that the other Underground unions – ASLEF, TSSA and Unite – are likely to join in with strike action if as expected TfL and the government announce by 31 March their intentions to cut pension provision and make massive job cuts.