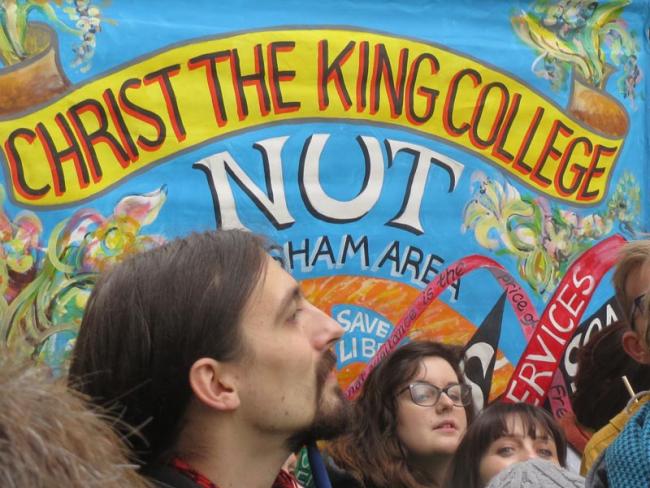 The National Union of Teachers (NUT) has launched a funding campaign for the sixth-form sector, and is balloting members in sixth-form colleges for a one-day strike to coincide with a national demonstration in March. The union is also proposing a national campaign of parental and public engagement leading to a national demonstration combined with the March strike.
The move is a response to enormous pressure on the sector, which has seen even larger cuts to 16-19 funding than those faced by schools. Teachers in the colleges are facing threats to pay, working conditions and employment. And students in this extremely successful sector are facing setbacks to their education.
Funding
Funding for 16-19 year olds already fell by 14 per cent in real terms under the coalition government. The Sixth Form Colleges Association says that 72 per cent of sixth-form colleges have already dropped courses – and 81 per cent have increased class sizes. And some sixth-form colleges are set to lose even more of their funding once protection against losses caused by the funding formula introduced in 2013 is withdrawn at the end of 2015-16.
'The NUT says it is vital to put pressure on ministers and MPs'
The ballot has just begun. The NUT says it is vital to put pressure on ministers and MPs to tackle the post-16 funding crisis, including making sixth-form colleges exempt from VAT on goods and services, like schools and academies – VAT costs the average sixth-form college around £300,000 a year.
The Chancellor announced on 25 November 2015 that 16-19 funding is to be protected in cash terms between 2016 and 2020. But with inflation that is still likely to mean a real-term cut of 8 per cent over the next four years. He also announced that sixth-form colleges can now apply to become academies and, by doing so, become entitled to reimbursement of VAT costs.
VAT relief would be worth around 4 per cent more funding to the average college – barely enough to cover the cost of the increases in employer's pension and NI contributions. But not every college will qualify – and in any case, says the NUT, sixth-form colleges should be exempted from VAT without having to become academies.
Reviews
The plan to allow colleges to become academies first surfaced at the end of January in a briefing for colleges taking part in the first wave of government-commissioned "area based reviews" of 16-19 education, which will have covered every area of the country by 2017. Aiming for fewer and larger providers, these reviews threaten many sixth form colleges with closure or merger with larger FE colleges.
Fewer sixth-form colleges will be bad for students, as many of them achieve better outcomes than school and academy sixth forms. And the fact is that the funding pressures which the government will use to justify mergers and closures are the result of its own policy of slashing 16-19 funding. 
The underlying problem of underfunding 16-19 education won't be addressed by merging institutions. These mergers will also put downward pressure on pay and conditions – in the name of harmonising sixth-form college teachers with FE lecturers.
Teachers and lecturers note that the review recommendations will only cover FE and sixth-form colleges. The NUT says that any objective and comprehensive analysis of how to support high-quality 16-19 education "must treat all providers – including school and academy sixth forms – equally".